Cuban volleyball players detained in Finland for presumed crime
---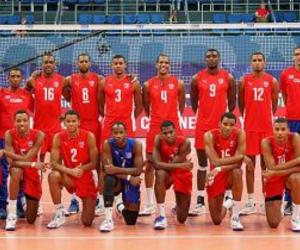 ---
The Cuban Volleyball Federation issued a press release informing that during a recent stay in Tampere, Finland, six members of the Cuban delegation participating at the Second-level World League have been accused of a presumed crime.
The news release explains that reports sent in by the delegation and permanent contact established with our embassy allow to say that as part of the case open by the authorities of that country, athletes Osmany Santiago Uriarte Mestre, Abraham Alfonso Gavilán, Ricardo Norberto Calvo Manzano, Rolando Cepeda Abreu, Luis Tomás Sosa Sierra and Dariel Albo Miranda keep detained.
Although the investigation is still underway to have all details and learn about the participation of each one of them in the event, the preliminary information alleges their involvement in acts which are totally foreign to discipline, the sense of honor and the respect that rule our sports and the society that we have defended since January 1959.
The head of the delegation and officials at the Cuban embassy are following the process, including legal procedures and possible punishment that derive from such process, the Federation explains and adds that in the domestic scene we will take the measures demanded by behaviors that are not in tune with ethics and the principles by which we have been educated.
---
Related News
---