Cuban judokas qualified for the Olympics train in Mexico
---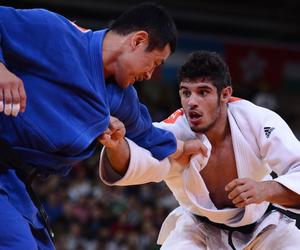 ---
The five Cuban judokas qualified for the Olympic Games in Rio de Janeiro continue training in Mexico led by Asley González, Olympic silver medalist in the 90kg division in London 2012.
In addition to Gonzalez, the group also includes Magdiel Estrada (73 kilos), Ivan Silva (81), Jose Armenteros (100) and Alex Garcia (+100), all under tutelage of Coach Justo Noda and some other members of his staff such as trainers, doctor, physiatrist, psychologist, etc.
About González, also world champion in Rio de Janeiro 2013, Manso said his last non-attendance to competitions, including the Grand Prix of Almaty, Kazakhstan, and the World Masters of Guadalajara, Mexico; respond to strategic decisions of the coaching staff.
The slight discomfort he felt in his right shoulder, which prevented him from competing in the Pan American Championships in Havana, is already history, he said.
On the four women qualified to Rio -Dayaris Mestre (48), Maricet Espinosa (63), Yalennis Castillo (78) and Idalis Ortiz (+78), Manso said they are training very well in Havana.


---
Related News
---