More Cuban baseball players hired for Foreign Leagues
---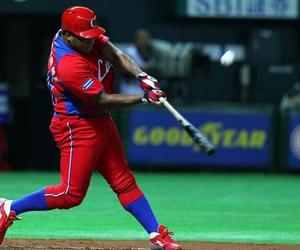 ---
The Cuban Baseball Federation announced on Tuesday progress in the process of hiring of Cuban baseball players abroad with the upcoming inclusion of several players in leagues of Canada and Italy.
Higinio Velez, president of the national baseball entity, specified at a press conference that at present details for the inclusion of Alexander Malleta, Donal Duarte, Yordan Manduley, Roel Santos and Yurisbel Gracial in the Canadian-American League are finalized.
Velez pointed out that Malleta and Duarte and veterans that would play for the Ottawa Champions team, while Manduley, Santos and Gracial will join the Capitals of Quebec, a team that has had Cuban players in previous seasons.
The manager said that experienced pitchers Alberto Bicet and Wilber Perez would play in the Italian Baseball League, if the hiring process reaches a successful conclusion.
Currently there are six Cuban players hired for foreign competitions, like slugger Alfredo Despaigne (Marine Chiba Lotte), pitcher Hector Manuel Mendoza and outfielder Jose Adolis García (Yomiuri Giants) in professional baseball in Japan.
Recently, receiver Frank Camilo Morejon and pitchers Ian Rendon and Noelvis Entenza made their contracts official with the Panthers Kitchener team, belonging to the Interstate Independent League of Canada.
source: www.cibercuba.com
---
Related News
---