Cuba and the US sign Memorandum of Understanding to cooperate in agriculture
Submitted by: Juana

03 / 22 / 2016
---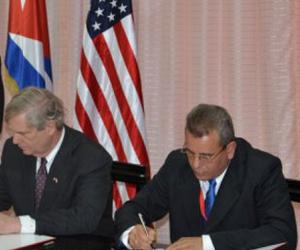 ---
Agricultural authorities of Cuba and the United States -Gustavo Rodriguez and Thomas Vilsack, minister and secretary of the Department of Agriculture, respectively- signed on Monday in this capital a Memorandum of Understanding, as part of the program of the official visit to the island of US President Barack Obama.
The text is aimed at promoting cooperation in agricultural trade, productivity, food security, and sustainable management of natural resources, as well as protection against the introduction and spread of pests, diseases of plants, animals and the environment.
Vilsack agreed with his host that the embargo is a barrier to full mutual links, and the presence of the US head of state in Havana is a reflection that it should be eliminated in Congress through the political pressure needed, he said.
Meanwhile, he added, we will continue to promote cooperation and I have asked my working group to work with the Cuban Ministry of Agriculture to create a work schedule that makes the achievement of the objectives of the current memorandum possible.
Source: www.cibercuba.com
---
Related News
---