Barack Obama meets Cuban president Raul Castro
Submitted by: Juana

03 / 21 / 2016
---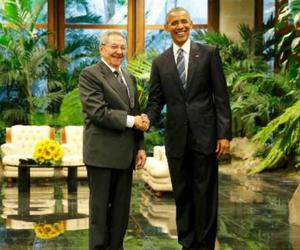 ---
The expected meeting on Cuban soil, between the Cuban President Raul Castro and US President Barack Obama has taken place in the Palace of the Revolution in Havana a few minutes ago. The event was televised live and watched by millions of viewers who do not want to miss any detail of Obama's agenda in Cuba.
Once inside the headquarters of the Cuban government, Raul Castro greeted Obama with a handshake and posed smiling for the cameras.
It was their third face-to-face encounter since the two countries began to normalize relations 15 months ago, but it was the first visit of a U.S. president to the island in almost 90 years.
Obama and Castro first reviewed on honor guard at the Palace of the Revolution and listened to the national anthems of both countries. They are scheduled to have two back-to-back meetings, the most extensive high-level talks between the US and Cuba in decades. The first is one-on-one, with only translators, security and perhaps a close aide in the room. Afterward, the meeting will be expanded to include top diplomats in both delegations.
Source: www.cibercuba.com
---
Related News
---