Cuba's Entrevoces Choir to sing with The Rolling Stones
Submitted by: Juana

03 / 20 / 2016
---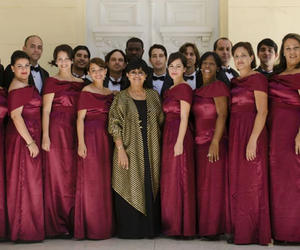 ---
The Entrevoces Choir, directed by National Music Award winner Digna Guerra, will be the only Cuban group to accompany the London band the Rolling Stones during its only concert on the island on March 25.
As announced by the Cubadebate Web site, the director of the Cuban choir confirmed that they will share the stage with these legends of rock, whose presentation in Havana will culminate a long journey through Latin America.
Guerra told the press about the tremendous honor and responsibility involved in this invitation and announced that the song to be interpreted will close the concert, listed as one of the most anticipated in recent years.
The song will be You Can't Always Get What You Want and it is a beautiful theme written by Mick Jagger and Keith Richards, explained Guerra, also a professor with the Higher Institute of Art.
It has the participation of a choir and is very difficult for the acute nature of the tessitura in which it's written and for the long time the sound must be maintained in chords that are rising all the time, Digna pointed out.
It is a great honor and a huge commitment for me and for the Entrevoces Choir to have been invited to this great cultural event that will take place in our country, she ratified.
This will be the end of the tour of Latin America of one of the most legendary rock groups in the world, and that particularly in our country has so many followers who are very fond of good music, she concluded.
The meeting of music lovers with the British band will take place on March 25 at 8:30 p.m. at the Ciudad Deportiva of Havana, where thousands of people are expected to attend.
Source: www.cibercuba.com

---
Related News
---