First Cuba-US direct mail service flight lands in Havana
Submitted by: Juana

03 / 17 / 2016
---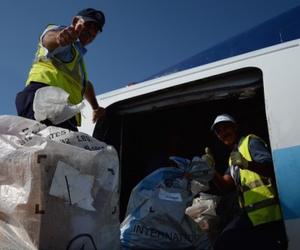 ---
Cuba and the US reestablished direct mail service with the arrival of the inaugural flight that landed on Wednesday at Havana's Jose Marti International Airport from the US city of Miami.
Shortly after 10:00 a.m., the SAAB 340 aircraft of IBC Airways arrived at the Aerovaradero terminal carrying the postal cargo, which was received by Cuban authorities headed by Carlos Asencio Valerino, president of the Correos de Cuba Business Group and officials from the Civil Aeronautics Institute, the Ministry of Foreign Affairs and the General Customs of the Republic.
The reestablishment of direct postal service will make it possible to increase delivery speed of mail, previously sent through a third country- and lower operational costs, and will allow national users to send to the neighboring country correspondence and parcels, which are no more than postal packages of up to 10 kilograms, with a price established by current tariffs.
After six and a half years of negotiations, on December 10, Cuba and the United States agreed to reestablish direct mail service through the implementation of a pilot plan for the transportation of post.
The resumption of the service is one of the first tangible results after the reestablishment of diplomatic relations between Havana and Washington in July last year and will benefit citizens on both sides of the Florida Strait, which will be able to send, more quickly and safely, correspondence, postal packages, courier and express parcels through post offices.
---
Related News
---