Cuba and China signed new accords for development in key sectors
Submitted by: Juana

02 / 23 / 2016
---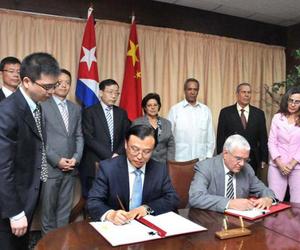 ---
Cuba and China signed on Monday in Havana new credit agreements that will allow the Caribbean nation to purchase inputs and machinery from the Asian nation to support the development of food and agriculture and railroad programs.
Signed by representatives of the Ministry of Finance and Prices (MFP) and the Export-Import Bank of China (Eximbank), the agreements will favor the purchase of tractors of the Yto brand, aimed at rice production, and of 240 railroad passenger cars.
Felix Martinez, Deputy Minister of Finance and Prices, told reporters that this line of financing for the import of tractors of medium and high power is the fourth credit that Cuba obtains from China, destined to increase local rice production.
He also specified that there are other joint projects in execution linked to the country's strategic programs, such as those related to the construction of the multipurpose terminal in the port of Santiago de Cuba, and in that of Mariel.

---
Related News
---