Cuban International Book Fair opens doors today
Submitted by: Juana

02 / 11 / 2016
---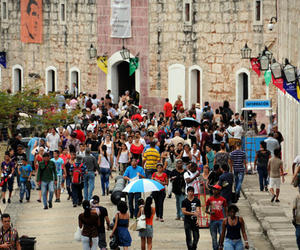 ---
The 25th Cuba 2016 International Book Fair opened today at Havana's Cabana Castle displaying over 900 new literary works and the attendance of 70 Cuban publishing houses and 37 from around the world.
The fair, considered the major cultural event in Cuba, will be visited by 317 international guests, including 175 authors, and will run in the Cuban capital until February 21 to later bring its offers to other Cuban provinces, according to the organizing committee.
The event is dedicated this year to poetess Lina de Feria and researcher Rogelio Martinez Fure, who was recently awarded the National Literature Prize.
Uruguay is the guest country to the fair as its authors will bring 31 attractive literary works made over the last few decades. The Uruguayans will also bring other artistic manifestations while the fair will pay tribute to authors Mario Benedetti and Eduardo Galiano, two writers that had closed relations with the Havana-based cultural institution Casa de Las Americas.
---
Related News
---