Raul Castro receives President of Costa Rica and talk about stranded Cubans
Submitted by: Juana

12 / 16 / 2015
---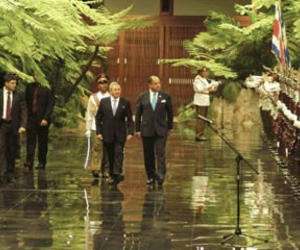 ---
Cuban President Raul Castro received the President of the Republic of Costa Rica, Luis Guillermo Solis, who is on an official visit to Cuba.
In a cordial atmosphere on Tuesday afternoon, the two heads of state exchanged views on the good state of bilateral relations and agreed on the willingness to strengthen them. Also, they spoke about various issues on the international agenda.
Tackled during the meeting was the issue of the presence of Cuban emigrants in Costa Rica. Raul reiterated that the policy of "dry feet - wet feet", the "Program of Parole for Cuban medical personnel" in third countries and "the Cuban Adjustment Act" encourage illegal emigration, threatening the integrity of emigrants, are discriminatory with respect to other countries in the region and generate serious problems for our nations and the United States itself, where governments have been responsible for the situation created.
Both leaders agreed on the need to find as soon as possible an appropriate solution that takes into account the well-being of Cuban citizens involved and help ensure a legal, safe and orderly migration.
Raul reiterated that Cubans that are now in Costa Rica and wish to return to the island have every right to do so, as established by the migratory law.
Accompanying the distinguished visitor were Manuel A. Gonzalez, Minister of Foreign Affairs, and Rodrigo Carreras, Costa Rica's ambassador to Havana.
Cuba was also represented at the meeting by Miguel Diaz-Canel, First Vice President of the Councils of State and Ministers, and Bruno Rodriguez and Rogelio Sierra, minister and deputy foreign minister, respectively.
source: www.cibercuba.com

---
Related News
---