Mexico and Cuba signed migratory agreement
Submitted by: Juana

11 / 10 / 2015
---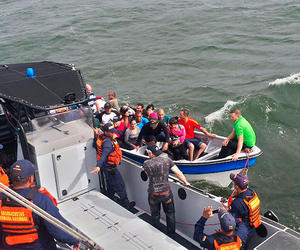 ---
Mexican President Enrique Peña Nieto and Cuban Raul Castro signed an agreement on migration, which updates the bilateral memorandum of 2008, in which both countries had agreed to "strengthen mechanisms to prevent and combat illegal migration, trafficking in persons and all crimes associated with this (...)."
Although they have not transcended more details of the new agreement, Peña Nieto has said that he will try to make the migratory flow "legal, safe and orderly" process that eradicates trafficking and the negative consequences it brings to its victims.
The question remains whether the new agreement will implement deportations of undocumented Cubans who arrive in Mexico.
So far this year about 9,149 Cubans have come through the southern border of Mexico, up from 1,871 Cubans who have done throughout 2014.
The two leaders, in addition to the agreement on migration, signed others for academic, diplomatic cooperation, basic education, tourism, fishing and aquaculture.
source: www.cibercuba.com


---
Related News
---