Diaz-Canel receives Mexican Secretary of Foreign Affairs
Submitted by: Juana

10 / 20 / 2015
---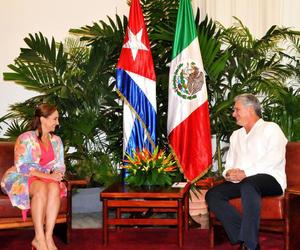 ---
The First Vice President of the Councils of State and Ministers, Miguel Diaz - Canel, received Claudia Ruiz Massieu, Secretary of Foreign Affairs of the United Mexican States.
During the fraternal meeting, held on Monday afternoon, they spoke about the historic ties existing between the two peoples, the good level of bilateral relations, the political will of both governments to strengthen and expand these ties in areas where there is potential, as well as about different issues on the regional and international agendas.
Accompanying the distinguished visitor were Socorro Flores Liera, Yanerit Morgan Sotomayor and Ana Paola Barbosa, Undersecretary for Latin America and the Caribbean, Director General for Latin America and the Caribbean, and official, respectively, as well as Mexico's ambassador to Cuba, Juan Jose Bremer Martino.
Cuba was also represented at the meeting by Foreign Minister Bruno Rodriguez; Deputy Foreign Minister Rogelio Sierra; the Director General of Latin America and the Caribbean, Manuel Aguilera de la Paz, and Cuba's Ambassador to Mexico, Dagoberto Rodriguez.
source: www.cibercuba.com
---
Related News
---