Cuban West opens tobacco planting season
Submitted by: Juana

10 / 12 / 2015
---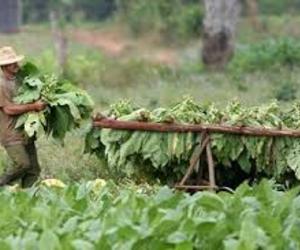 ---
Tobacco growers in western Pinar del Rio, have begun the planting season of the famous Cuban product.
Little over 17 thousand hectares of lands will be planted with local tobacco variety at private and state farms during the season in the area known as The Cradle of Cuban Tobacco, said the sector's director Enrique Cruz.
This year the planting season begins earlier in an effort to counter the effects of the severe drought affecting the western territory, said the official.
The western province of Pinar del Rio contributes all the material for cigar filler material for the famous Habanos, and workers in the territory are pushing themselves hard to increase the yield and quality of the tobacco leaves.
Local tobacco farmers produced 16.4 thousand of tobacco leaves to the cigar factories in the last campaign and they expect to considerably increase that yield by 2020 when the plant some 20 thousand hectares.
source: www.cibercuba.com
---
Related News
---