Raul Castro met with former US President Bill Clinton
Submitted by: Juana

09 / 28 / 2015
---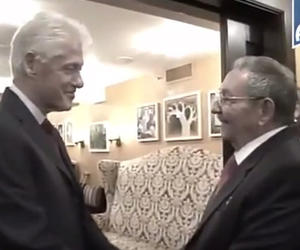 ---
Cuban President Raul Castro met with the ex-president of the United States, Bill Clinton, during his visit to New York, where he spoke for the first time before the UN General Assembly, according to state television on the island.
The meeting took place in a "friendly atmosphere", said the report of the official Cuban television which showed images of the meeting where Castro greeted Clinton with a "How are you?", in Spanish, to which the American ex-president replied in English: "Well, better now that I know you."
During the meeting "different topics" were addressed, including sending aid to Haiti after the 2010 earthquake, a country that Cuba has sent personnel and resources, and where the foundation that has the name of the US president is working.
Bill Clinton's wife, Hillary Clinton, former Secretary of State of the USA and current Democratic frontrunner in the upcoming presidential election, and their support for ending the embargo against Cuba, which they consider a "failed policy ", were also mentioned.
source: www.cibercuba.com


---
Related News
---