Two Americans crossed the Florida Straits to Cuba in a kayak
Submitted by: Juana

09 / 16 / 2015
---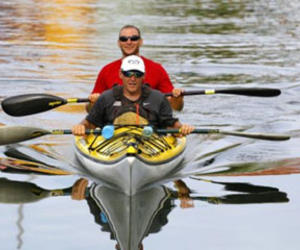 ---
Only two of the 10 American kayakers who departed on Friday 11 from Havana to Key West could complete the journey after nearly 34 hours of rowing and bad weather.
The pair made up by the journalists Frank Sedlar and Brent Rose arrived on Saturday 12th, at around 10 pm, to the shores of Key West, a fact that places them among the few people who have crossed the Florida Straits kayaking, announced the Hemingway International Yacht Club of Cuba.
Although they arrived in Havana with the mission to report the feat, Sedlar and Rose were invited to row on board of one of the five boats for the rest of the team, because they knew they had the potential to successfully cover the 145 kilometers; Sedlar, for example, was a rower at the University of Michigan.
Crossing the Florida Straits has become a challenge for many athletes in the world, especially from the northern country, as a symbol of friendship that should prevail between the Cuban and American peoples.
source: www.cibercuba.com
---
Related News
---