Cuba will present today report against US embargo
Submitted by: Juana

09 / 16 / 2015
---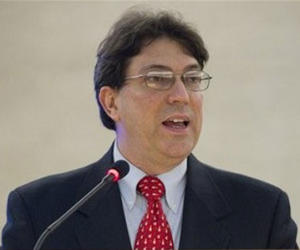 ---
Cuban foreign minister Bruno Rodriguez today will present, before the local and foreign media, the annual report "Necessity of ending the economic, commercial and financial embargo imposed by the United States of America against Cuba."
The report, which will be submitted to the United Nations General Assembly, denounces the huge damage inflicted on the Cuban people by the unilateral and extraterritorial US policy over the past 50 years.
The embargo, which US authorities insist in describing it as a trade embargo, has affected Cuban society in all sectors and has had severe impact on the rights of the Cuban people to health, education, food, sports and culture.
Following the reestablishment of diplomatic relations between Cuba and the United States, both sides defined an agenda towards the normalization of bilateral relations, but the Cuban government has made it clear that it is not possible to talk about normal relations while the embargo is in force.
The unilateral US policy has been condemned for over 20 years in a row by the international community at the UN General Assembly by overwhelming majority of votes, only the US and Israel have been repeatedly against the permanent world demand for the lifting of the embargo.
source: www.cibercuba.com
---
Related News
---