Demand of Cuban teaching services abroad continue to increase
Submitted by: Juana

09 / 04 / 2015
---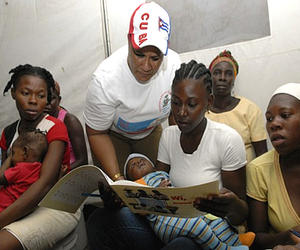 ---
Technical Education director Eugenio Gonzalez said that the number of countries requiring Cuban services continue to increase, with requests of professors in areas such as electricity, mechanics, agronomy, math, physics, civil construction and others.
During 2014, these academic services translated for the Cuban Education Ministry into an income calculated at 15.4 million dollars, while that figure is expected to reach 17 million dollars this year.
Some of these requests come from Central American countries, but most of them are issued by Caribbean and African nations, said the official who regretted that at times they are not able to cope with all the demands due to the language barrier.
He insisted that in order to attend to those needs, Cuban professors must particularly learn English, French or Portuguese as their mastery of these languages is later evaluated by expert commissions in the client countries.
source: www.cibercuba.com
---
Related News
---