Giustino Di Celmo died without any justice for his son
Submitted by: Juana

09 / 03 / 2015
---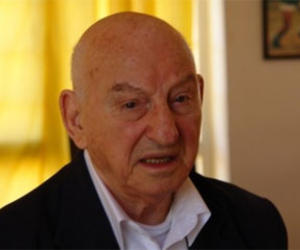 ---
Italian Giustino Di Celmo, a close friend of Cuba and its socialist revolution passed away September 1, at 94, in Havana.
Di Celmo, who was born in Salerno, Italy on December 24, 1920, arrived in Cuba for the first time in 1992 along his son Fabio Di Celmo, who was the fatal victim of a terrorist bombing on September 4, 1997, at the Copacabana hotel, as part of a series of violent attacks against Cuban tourist facilities that year by paid-mercenaries serving to anti-Cuba interests.
Following the murder of his son, Guistino, a WWII vet and a peace-loving man, decided to definitively settled in Cuba and he dedicated the last years of his life to denounce terrorist acts against Cuba and to advocate international solidarity with the island and the lifting of the over-50-year US economic, commercial and financial embargo of Cuba.
Di Celmo´s dead body will be cremated and later repatriated to Italy.
source: www.cibercuba.com

---
Related News
---