Altar in Revolution Square ready for the Pope
---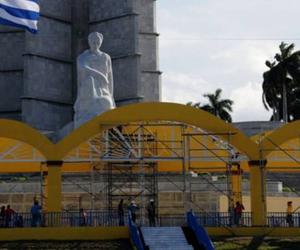 ---
The incessant work of a team of workers, in the driest and hottest summer in decades in Cuba, has been in charge of making an altar of iron and wood, in the Revolution Square, where the Pope Francis will officiate Mass on September 20, as part of his tour of Cuba and the United States.
The quality of the works underway at Havana´s Revolution Square for the visit of Pope Francis to Cuba is excellent, said Monsignor Rodolfo Loiz, who is in charge of preparing the trip of the Holy Father to Cuba, scheduled for September 19-22.
The works, being carried out by a brigade from the Metal Productions Enteprise, include a main stand for the Pope, two platforms for reporters and another one for the choir and an orchestra, as well as the sacristy where the Pope will prepare his mass on September 20.
Other elements in the works are two huge posters. One of them is a Christ of the Mercy to be put up on the front of the Jose Marti National Library and another on the National Theater depicting a collage of images related to charity gestures by Pope Francis and Mother Theresa of Calcutta and others.
Missionary of Mercy will be the slogan for the Papal visit and the prevailing color in the square will blue. The choir will made up of 230 members from the Higher Institute of Arts and a small representation of different community church choirs of the Catholic Church in Cuba.
source: www.cibercuba.com


---
Related News
---