Evo Morales will travel to Cuba for Fidel Castro's birthday
Submitted by: Juana

08 / 04 / 2015
---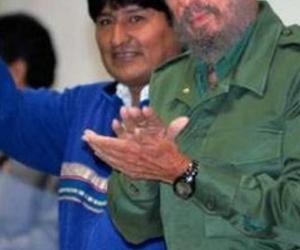 ---
The president of Bolivia, Evo Morales, announced today that on Thursday 13 he will travel to Cuba to celebrate the birthday of the leader of the Cuban revolution, Fidel Castro.
"I hope he receives me," Morales told reporters. Fidel Castro celebrates 89 years next week, and according to Morales, several presidents of the countries member of ALBA will travel to Havana.
"It's always interesting to talk to him, he have health problems but he is more lucid" said the president.
The Bolivian president declared himself a follower of the political ideas of Fidel Castro, who after decades at the helm of the island, bequeathed power in April 2011 to his brother Raul, 84.
Morales anticipated that in Havana he will hold bilateral meetings with some of his ALBA colleagues.
source: www.cibercuba.com

---
Related News
---