Cuban journalist present book in Windhoek, Namibia
Submitted by: Juana

07 / 27 / 2015
---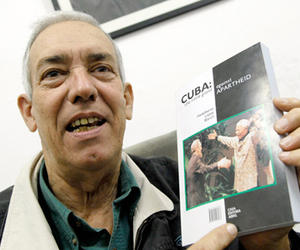 ---
SWAPO, a lion against Apartheid, is the title of the new book by Cuban journalist Hedelberto Lopez Blanch, which will be presented in its English version in mid-August in Windhoek, capital of Namibia, in southwest Africa.
The text is a research from the earliest civilizations that inhabited the country, known as South West Africa, a colony of the German Empire from 1884 until World War II when it was invaded by the British and South African troops to take over the territory.
The book narrates the terrible conditions of racism to which its black inhabitants were subjected, which caused in 1960 SWAPO was founded and only six years after the armed struggle against the illegal occupation by South Africa, apartheid and for national independence began.
Research on the subject began in 2012 in the archives of the South-West Africa People's Organization (SWAPO) and includes numerous interviews with fighters and Sam Nujoma, its leader.
source: www.cibercuba.com
---
Related News
---