Cuban Foreign Minister calls for lifting the embargo in Washington
Submitted by: Juana

07 / 22 / 2015
---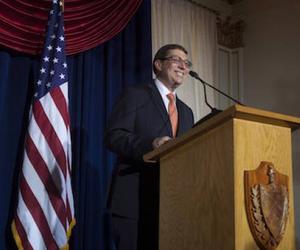 ---
Cuban Foreign Minister Bruno Rodriguez demanded the lifting of the economic embargo on Cuba and the return of the territory occupied by the Guantanamo Naval Base as part of the reopening of the Cuban embassy in Washington.
After the hoisting of the Cuban flag, Rodriguez thanked the request of President Obama to Congress regarding the elimination of the blockade.
The chancellor -first in visiting Washington from 1959- said that "It's a big challenge because there has never been normal relations between the US and Cuba, despite a century and a half of exchanges between their peoples ". He added that "the Cuban government commits all his will and calls for the return of Guantanamo, the end of the blockade and respect the sovereignty of Cuba"
Rodriguez explained that only the lifting of the embargo and the return of the Guantanamo base "will give meaning to what we are experiencing today".
source: www.cibercuba.com
---
Related News
---