Cuba confirms its foreign minister's trip to the US to open embassy
Submitted by: Juana

07 / 17 / 2015
---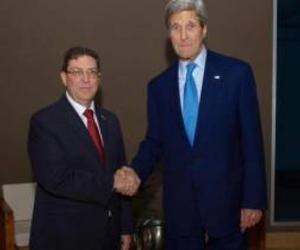 ---
The Cuban government today confirmed the trip to the United States of its Foreign Minister Bruno Rodriguez, for the historic ceremony to reopen embassy on Monday July 20, with which both countries will officially resume diplomatic relations.
Rodriguez, who will preside the ceremony to hoist the Cuban flag in which is so far the Cuban Interests Section in Washington, will be received by his US counterpart, John Kerry, according to Cuban media.
Kerry must travel to Havana in the coming weeks at a date yet to be determined.
"On Monday July 20, the diplomatic relations between Cuba and the United States will be officially restored and will be opened permanent diplomatic missions in the respective capitals," Gustavo Machin, deputy director for US affairs at the Cuban Foreign Ministry said today to local media.
With the trip, Rodriguez will become the first Cuban foreign minister to officially travel to the United States since 1959.
Kerry must prevail in Havana a similar celebration to hoist the American flag on a diplomatic mission in Cuba after 54 years.
source: www.cibercuba.com
---
Related News
---