Cuba to Toronto 2015 with full conviction in victory
---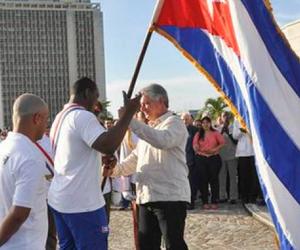 ---
The Cuban delegation to the Toronto 2015 Pan American Games received the national flag on Monday during an act at Jose Marti Memorial, in Havana, with the presence of Miguel Diaz-Canel, member of the Political Bureau of the Communist Party of Cuba and First Vice President of the Councils of State and Ministers, with full conviction in victory.
Diaz- Canel handed the national flag to Mijain Lopez, double Olympic champion and five-time world champion in Greco-Roman wrestling.
During the day the delegation of Cuba to the Special Olympics World Summer Games, to be held in the US city of Los Angeles, from July 21st to August 3rd, was honored in the same way.
source: www.cibercuba.com
---
Related News
---