Mexican navy ship arrived in Cuba
---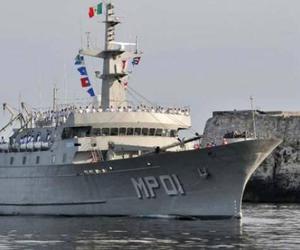 ---
Huasteco training ship of the Navy of the United Mexican States touched the port of Havana in the morning of Sunday, to develop its second official visit to Cuba until Friday 19.
This visit is part of the 2015 training trip of the vessel with third year cadets of the Naval Academy , said frigate captain Aristeo Aguilar Meza, commander of the ship.
The stay in the port of Havana or any other port in Cuba, he added, is always considered within the training voyages made by cadets.
He also thanked the affection of Cubans to the Mexicans: "We are at home; you really make us feel in a familiar environment, it is a joy to be here in Havana."
Huasteco can be visited on Monday from 10:00 am until 5:00 pm, tomorrow from 10:00 am to 4:00 pm and on Wednesday from 10:00 am to 5:00 pm.
After completing its visit to Cuba, the Huasteco will sail on a journey of five days for Cartagena de Indias, Colombia.
source: www.cibercuba.com
---
Related News
---