USA makes official the removal of Cuba from the terrorist blacklist
Submitted by: Juana

06 / 05 / 2015
---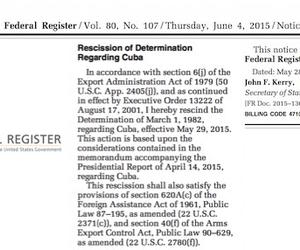 ---
US formalized on Thursday the removal of Cuba from the list of states sponsors of terrorism and by publishing a statement by John Kerry, Secretary of State, about it on the official gazette, the Federal Register.
The article entitled "Termination of determination with respect to Cuba" ends the decision to include the island in the blacklist, adopted by the Reagan administration on May 29, 1982 and continued in effect for the next 33 years.
However, it is unlikely that, after the delisting, US can provide direct assistance to Cuba because other laws such as the Freedom and Solidarity for Cuba of 1996 or the Helms-Burton forbid it. The termination also opens the door for Washington to authorize Havana to receive loans from multilateral financial institutions like the International Monetary Fund and the World Bank.
The State Department sent its notification to the Federal Register on the termination of Cuba on May 29, at the deadline of 45 days after notification of the President to Congress, but to make it official its publication in the official gazette was required.

source: www.cibercuba.com 
---
Related News
---