Official: Yulieski Gourriel is excluded from Cuban pre-selection to Toronto
---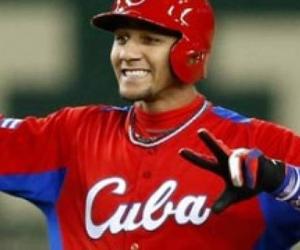 ---
The star player Yulieski Gourriel, considered one of the pillars of the current Cuban baseball, was excluded from the national pre-selection for absence to training and will not be part of the Cuban team to Toronto 2015 Pan American Games.
"Yulieski Gourriel, a subject much commented on, is not in the pre-selection by not attending training, and his position has been filled by Rudy Reyes," said on Thursday Roger Machado, head coach of the pre-selection of 35 players who are currently working in Latinoamericano Stadium.
"We know Yulieski Gourriel have enough quality and is one of the most talented players in Cuban baseball, but I think he did not want to be within the team, so he could not do it right ... Machado said that "Yulieski´s absence is not important because we have athletes who can do the job as well as him or better."
However, the reasons for the apathy of Yulieski, 30, about not joining the training were not clear. For many days, versions circulated among athletes and fans that he was upset with the exclusion of his brother, Lourdes Jr.
source: www.cibercuba.com
---
Related News
---