Cuban Manduley highlights in Canadian Baseball League
---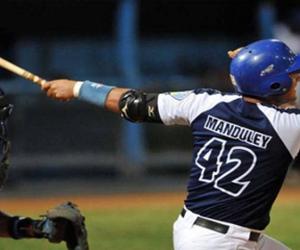 ---
After four days of his debut in the league of the Canadian-American Association of Professional Baseball, shortstop Yordan Manduley stands out among the Cuban players hired by the Quebec Capitals.
Manduley ranks sixth on the list of best hitters of the season, with batting average of .412, the result of seven hits in 17 at-bats, with a double and an RBI, according to statistics consulted on the official website of the competition.
In contrast, outfielder Yuniesky Gourriel has started poorly in his second foray with the squad of Québec in the independent North American League, since his batting average is of .231, with only three hits in 13 at-bats.
Yordan Manduley and Ismel Jiménez appear in Cuban baseball pre-selection and are eligible to join the team at the Pan American Games in July, in the Canadian city of Toronto.
source: www.cibercuba.com
---
Related News
---