Strengths and projections of cooperative sector to be exposed
Submitted by: Juana

05 / 18 / 2015
---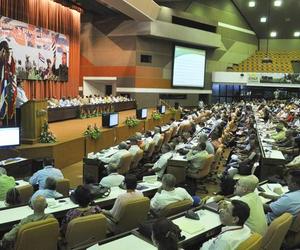 ---
Weaknesses, strengths and projections of the cooperative and agricultural sector in Cuba were exposed today in the discussion of the Central report of the 11th Congress of the National Association of Small Farmers (ANAP by its Spanish acronym).
The commitment to continue fighting for raising food production was ratified by Rafael Santiesteban Pozo, member of the Council of State and president of ANAP, representing more than 370 000 members of the organization, founded 56 years ago by Commander-in chief Fidel Castro. In the presence of Jose Ramon Machado Ventura, Second Secretary of the Central Committee of the Communist Party of Cuba and Vice President of the Councils of State and Ministers, and Miguel Diaz-Canel Bermudez, member of the Political Bureau and first vice president of the Councils of State and Ministers, criteria were presented to strengthen cooperati ve operations.
A task that should be improved to extract more out of the resources is the use of advances in science and technology, personnel training and links with universities and scientific institutions around the country.
source: www.cibercuba.com


---
Related News
---