Injured Cuban athlete Mabel Gay
Submitted by: Camila

11 / 20 / 2014
---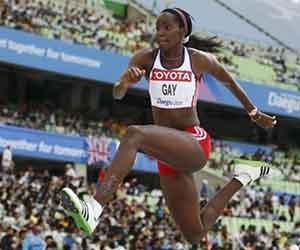 ---
Mabel Gay, Cuban triple jumper, cannot participate in the athletics competition of the XXII Central American and Caribbean Games in Veracruz, because of an injury in the pubic bone, announced today the medical head of the Cuban delegation, Pavel Pino.

Mabel was injured on November 11 during a training session at the High Performance Center of the Federal District after performing an improper motion while exercising with the fences, which caused a microfracture in the pubic bone. The injury is not serious and do not requires surgery.

Mabel Gay, 31, won the gold medal at the World Athletics Final in 2009 when she was also proclaimed runner-up of the world. At the Pan American Games Guadalajara 2011 she finished third and in universal event Moscow-2013 was fifth. Her personal best is 14.67 meters.

Pino also revealed that the captain of the men's soccer team, Jordan Santacruz, is also suffering from a slight injury that requires rest. The rest of the delegation, comprising more than 500 athletes, has a good health and a very favorable psychological and mental disposition said the doctor.

Pino further noted that all members of the delegation were subjected to three drug tests before traveling Veracruz. For those sports who completed their training in Mexico (athletics, table tennis, pentathlon, soccer and cycling) they were conducted 84 checks that have already been shipped to the laboratory in Havana.
---
Related News
---