First edition of TEDx talks were held in Havana
Submitted by: Camila

11 / 18 / 2014
---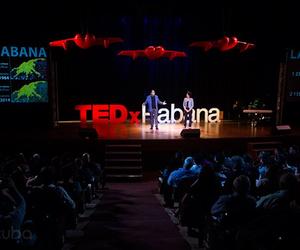 ---
On Saturday the Covarrubias Hall of the National Theater of Cuba hosted the first edition of TEDxHabana. There were given twelve lectures and various cultural acts and TEDx talks videos completing nearly six hours of the event which was presented by singer Amaury Perez.

The set, decorated with the colors of the event included a sculpture in the center of the group Stainless and the original creation scarlet aircraft by Segura Esterio.

The first conference was by the artist Esterio Segura himself. After him talked the architects Claudia Castillo and Orlando Inclán, who are involved in the rescue and the reinvention of the city. As third began his speech Miguel Salcines, creator and president of the largest garden of Havana, who gave a talk full of humor and tips for a healthy diet.

Other speakers were: Manuel Vazquez, a criminal lawyer who serves as counsel for CENESEX and activist for gender equality; Heydi Fernandez, journalist working at Havana Club and warning the risk of alcohol use in adolescents; Richard Peña professor of cinema studies at Columbia University; Yudivián Almeida, who directs the movement of Artificial Intelligence at the University of Havana, gave a talk about prices and costs of products and services in Cuba today.

The culinary entrepreneur Enrique Nunez, owner and creator of the iconic palate La Guarida; renowned filmmaker Eugene Jarecki, twice winner of the Grand Jury Prize at the Sundance Film Festival; writer, composer and diplomat Herman JP Portocarrero who currently serves as an ambassador of the European Union in Cuba; songwriter X Alfonso, renowned musician and founder and director of the Cuban Art Factory and recognize ethnologist and folklorist Natalia Bolivar complete the list of speakers at the event.
---
Related News
---