Discrete performance of Cuban weightlifters at the World Championships
Submitted by: Camila

11 / 14 / 2014
---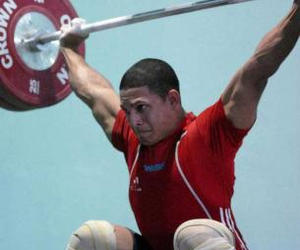 ---
The Cuban team for the World Weightlifting Championships in Almaty, Kazakhstan includes Jordanis Espinosa, Adriel La O and Victor Quinones, a brief and inexperienced team whose main objective is to prepare for the next Central American Games.

Espinosa, who figure in the plans of specialists and trainers for future endeavors, improved three kilos his personal record, accumulating 326 kg, although not even the main boot records (145) and clean (184).

Thus, the young weightlifter concluded in nineteenth position among nearly 40 competitors, branded 326 / 144-182, behind teammate Adriel La O (326 / 148-178), both contestants in group C which concluded the second and third, respectively.

Although it may be considered good participation from both athletes in the first of two qualifying for the Olympic Games in Rio de Janeiro 2016. La O maybe was not up contests he wished, to drop below his personal records 330 / 150-180.

Today will go to the platform competition the last of the three Cuban representatives, Victor Quinones, a favorite with the Venezuelan Darwin Pirela to dominate group D as total marks of 340, higher than the rest of the contestants.

Jorge Luis Barcelán, national commissioner of discipline, said the three young weightlifters set out with the goal of reaching 30 to 40 points for Olympic qualification ending at the World Championships 2015 Houston (USA).
---
Related News
---