The responsible for fraud in university assessment test were convicted
Submitted by: Camila

11 / 06 / 2014
---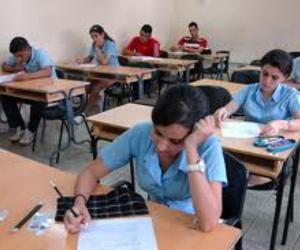 ---
The fraud occurred with the university assessment test last May was the cause that sentenced seven people involved in the facts, including six high school teachers. They stole and sold the tests and now they're carrying sentences up to eight years in prison.

The trial showed that Leonardo Mosés Viera, who was manager in the Printing Felix Varela Morales, of the Ministry of Higher Education (MES), took several copies of the Mathematics, Spanish and History tests and proceeded to sell them to others in the sum of 180 CUC.

The tests came through students at the hands of Victor Romero Mendoza, a professor of Mathematics at José Martí High School, in Old Havana. This gave them to Karel López Guerrero teacher in Gerardo Abreu Fontan High School, in Centro Habana; who in turn facilitated to Daisy Márquez Rodríguez, Professor of Chemistry in the same educational institution, to sell them for between 40 and 50 CUC to several students and parents.

The exams also reached the hands of Arian Alonso Valdés, Professor in Aristides Viera High School, who prepared similar exercises for some students. Alonso Valdés provided the tests to Barbara Maricela Gomez Martinez, provincial methodologist of Mathematics, and Professor Antonio Fernandez Lazaro Acevedo who used them to review their children.

The biggest sentence was for the worker of printing Leonardo Mosés Viera, convicted to eight years in prison. Karel López Guerrero and Arian Valdés Alonso were sentenced to four years in prison; Márques Daisy Rodriguez, 3 years; Barbara Maricela Gomez Martinez, 2 years and six months; Lazaro Antonio Fernandez Acevedo, 2 years, and Victor Romero Mendoza, a year and six months. The ruling can be appealed to the Provincial Court of Havana.

"The court also imposed on all defendants penalties of deprivation of civil rights, the prohibition of exercise the profession related to teaching and established the prohibition of migration," said Granma newspaper report.
---
Related News
---