Haydee Milanes honors Marta Valdés
Submitted by: Rafa Faridis

11 / 05 / 2014
---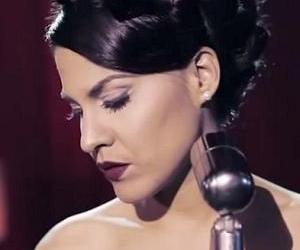 ---
The phonogram Palabras, a musical tribute to the renowned Cuban composer Marta Valdés, was officially introduced last November 4 at Café Miramar in Havana with the Bis Music label, celebrating the return of the talented singer Haydée Milanés after three years of absence from the Cuban scenarios.
"This album was a laborious one, with complex songs but also with very high sensitivity and poetry, I feel comfortable singing them and taking them to different instrumental formats", said to the press Milanés. The themes have a deep emotional attachment to the singer, which qualifies as songs with very beautiful atmospheres.
"In this album Haydée pulled out the musical arranger in her" said Marta Valdés, proud of merging fourteen tracks of her own with the very personal style of Milanés.
To Valdés, one of the most representative figures of the XX century Cuban song book, has been already dedicated spaces in several musical productions, by musicians such as Miriam Ramos and Elena Burke, however the octogenarian author sees in Haydée a deep respect for the original musical piece, which has made very pleasant working together in this last issue.
According to Tony Pinelli, songwriter and record producer, Marta's work goes beyond feeling and being one of the main antecedents of the Cuban trova, "Marta is simply Marta, her songs are timeless and Haydée has been able to find the exact juncture to add taste to these songs"
In the album, there are songs like No te empeñes más, Sin ir más lejos, Aida, Canción fácil, among others, accompanied by a record note of the distinguished writer and intellectual Leonardo Padura, gesture that makes Palabras a jewel of Cuban art.
In the same way, the singer thanked the participation of talented musicians in the production of the phonograms, such as the guitarist Sam Fong, the trumpeter Frank Carlos, Enrique Plá on drums, Jorge Reyes on acoustic bass, among others.
This album, which will be presented in the next edition of the fair CUBADISCO, comes with a homonym documentary, with the DVD of the concert held last October at the Mella Theater in Havana and with the music video Palabras which already has three nominations for the Lucas awards.
Milanés also announced the national tour of this album for next February. Another of her future projects is to finish an album started in Brazil, which combines the best of this South American music; likewise she intends to finally sing Pablo Milanés themes.
---
Related News
---