Brooklyn Mack was thrilled to perform in Cuba
Submitted by: Camila

11 / 04 / 2014
---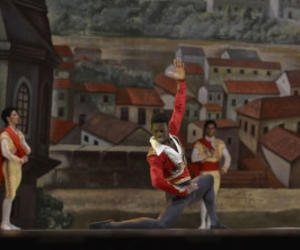 ---
The first dancer of Washington Ballet, Brooklyn Mack, said he will return to Cuba because the public excited him. The artist from South Carolina said goodbye to the 24 International Ballet Festival of Havana with a memorable performance at the National Theater.

Mack had its first performance in Cuba in the hand of the country's international dancer Viengsay Valdes, who again showed body control and technical power in the pas de deux Diana and Acteon, devised by Russian Agrippina Vaganova.

The audience only saw big jumps, numerous twists, complex steps and enjoy not knowing that Valdes burned flu fever and Mack suffered a foot injury.

Mack said he was excited about the reception of the audience, which launched at the end the rose, flattered him by his partner on stage. Valdes confirmed that both forget the world when the theater curtain is lifted, and then give themselves completely to art.

Mack and Valdes also made history with a pas de deux from Don Quixote last October 31 at the Karl Marx Theater in Havana.

But the public at the International Festival in Cuba was not alone in standing applauses because a week earlier in Puerto Rico have the same furor raised at a gala star where they performed the famous Black Swan pas de deux from the classical Swan Lake.

The pair of Cuban and US consolidated in Havana as the strongest and most virtuous so far in this year's Festival where artists from 28 countries are participating.
---
Related News
---