President of INDER calls loyalty to the Cuban delegation going to Veracruz 2014
Submitted by: Camila

10 / 30 / 2014
---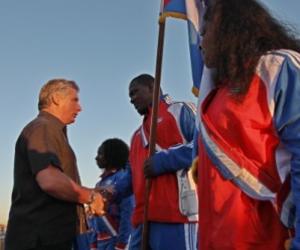 ---
The new president of the National Institute of Sports, Physical Education and Recreation (INDER), Antonio Eduardo Becali, met with the delegation that will participate in the Central American and Caribbean Games Veracruz 2014 and said the Island aims to maintain the first position in the medal and the fidelity and loyalty of each of their athletes.

Cuban sports through a steep decline for several years, with the loss of leadership in international settings and the constant drain of top athletes for training and living conditions, and professional contracts.

Athletes of the island follow "the example of fidelity and loyalty of our fellow prisoners in the United States," Becali said, referring to the three agents of the regime serving sentences for espionage.

The Cuban delegation, made up of 543 athletes, was championed in the Plaza of the Revolution by First Vice President, Miguel Diaz-Canel. The oath of the members belonged to Glenhys Hernandez (taekwondo).

Athletes committed to return "with accomplishment and the most important medal, dignity." "There is a great spirit of victory," Becali said. "It has done a lot of preparation and delegation is in great shape," he added.
---
Related News
---