Collapses are the result of heavy rains in Havana
Submitted by: Camila

10 / 29 / 2014
---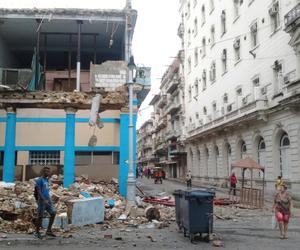 ---
The precarious situation of many constructive buildings in Havana was evident last Thursday when the second floor of the building at the corner of Galiano and Virtues in Central Havana collapsed after a heavy rain. The three balconies and façade fell to Galiano Street.
The collapse did not charge victims because the inhabitants of the building had been evacuated by firefighters shortly before the events. Debris are still in the street, but is expected to be collected in a short time because Galiano is one of the busiest streets in Havana, both vehicles and pedestrians.
Another similar event, but where people were not so lucky, was the one in the street corner 41 and 54, in Playa. It was there five deaths and dozens of families were resettled in collective shelters after collapsing the building where they lived.
Construction of the 30s had delayed collapse: bearing walls had been affected by the multiple divisions requiring the families that lived there. The humidity did the rest.
---
Related News
---