Erick Hernández sets a New World Record
Submitted by: lena campos

05 / 13 / 2014
---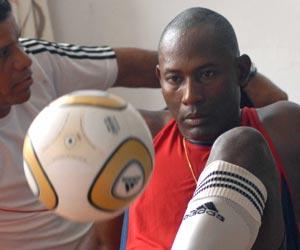 ---
Erick Hernandez, a former footballer from Havana, broke yesterday his own ball control record with time of 12:07.05 hours in the modality of touching the ball only with his feet from the stand position.
Erick began his attempt at 8:00 am, in the lobby of Havana's Copacabana Hotel and pulverized his previous mark (12:05 hours), dating from May 2012 at Sevilla Hotel.
"I've been training for this test since last January. I have worked hard with long racing, combined with strength training, mainly for the upper body: neck, shoulder, trapezius and pectorals", Erick said.
However, at just 1 hour and 10 minutes after starting the test, Erick suffered a cramp on the biceps femoris of his right leg that bothered him for the rest of the process.
"That forced me to make a very violent change to keep following the plan. But I could not quit as I spent more than four months training and I had to finish, "Erick said.
According to some experts at the scene, the athlete averaged 95 ball touches per minute. And although this is not what validates the attempt, it is worth mentioning that he should kick the ball at about 69 065 times.
Source: (ACN)
---
Related News
---