Havana debuts at Red Bull Cliff Diving World Series
Submitted by: lena campos

05 / 13 / 2014
---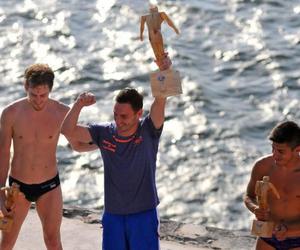 ---
HAVANA on Saturday debuted in the extreme sport, Red Bull Cliff Diving World Series, that saw British Blake Aldridge edge out of 13 others lead the 2014 tour with 447.40 points.
According to the event organisers, this year's series would bridge natural venues and urban surroundings as much as it will push boundaries. Cliff divers leap aesthetically from almost three times the Olympic height and hit the water, guided and guarded only by their concentration, skill and physical control. Havana, Texas and Bilbao are all new destinations on the 2014 calendar for the Red Bull Cliff Diving World Series, in which 10 of the world's best cliff divers and up to four wildcards at each stop will launch from 27 metres, hitting the water at speeds of 85 kilometres per hour, just three seconds later.
Between May and October, the competition will continue in Ireland, Norway and Portugal; until the final showdown, in Brazil - another first for the athletes. The spectacular event of high adrenaline brought to Havana triple champion British, Gary Hunt (2010-2012); Colombia's Orlando Duuque, who won the series in 2009 and the reigning champion; Russian, Artem Silchenko.
But it was another British Aldridge who stole the Havana tour after emerging with 447.40 points from the three-round dives.
Silchenko, who started brightly could only manage a score of 379.30 points. Mexico's Jonathan Paredes was second with 445.10 points, followed by Hunt with 427.70 points, Duque at 423.30 points, and Steven Lobue of the United States with 402.25 points.
The event now in its sixth year, features the world's most talented cliff divers competing from 27 metres in the quest for championship points and diving perfection.
The extreme sport event in Havana brought together 14 divers from the USA, Great Britain, Brazil, Colombia, Mexico, Czech, Poland and Russia.
The Red Bull Cliff Diving World Series that began in July 2009 with an event staged in Dubrovnik, Croatia would this year, take participants to Havana (Cuba) Texas (US) Ireland, Norway, the Azores (Portugal), Bilbao (Spain) and Brazil. Due to the height of 26 to 28 metres, divers are not recommended to land head-first in the water, as such impact would be like landing on concrete.
The Havana tour was staged at the 425-year-old Morro Castle fortress (Castillo de los Tres Reyes Magos del Morro - named after the three kings from the famous Christmas story and promontory on which the castle stands).
Other competitors are Jorge Ferzuli (Mexico) who ended with 180.50 points, Edivaldo Moura (Brazil) 226.95 points, Miguel Garcia (Colombia) 257.90 points, Michal Navratil (Czech) 399.65 points, Jucelino Junior (Brazil) 284.55 points, Kris Kolanus (Poland) 259.30 points, Andy Jones (US) 281.55 points and David Colturi also of the US with 376.30 points.
Source: PostZambia.com
---
Related News
---