Fort Lauderdale resident among divers heading to Havana for Cliff Diving World Series
Submitted by: lena campos

05 / 10 / 2014
---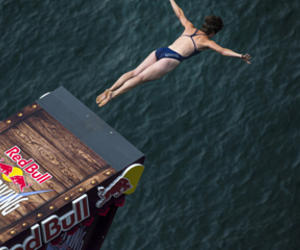 ---
Fort Lauderdale resident and Red Bull Cliff Diver Steven Lobue has been training for the Red Bull Cliff Diving World Series which begins in Havana, Cuba, on Saturday.
On Monday, the 29-year-old New Jersey native packed up his luggage to embark on a trip that will lead him to and off of the high cliffs of Cuba.
There is no doubt about it, cliff diving is an extreme sport. Take a high cliff, deep water and courage. Cliff divers leap from a distance which is three times the Olympic height.
There is no additional gear or protection, and as you are falling from around 90 feet in the area it all comes down to technique and concentration.
The sport that has people diving from the equivalent of an eight-story building has a long tradition but remained largely in the shadows.
Since its introduction it has become a sport that draws nearly 650,000 on-site spectators worldwide.
Lobue, who works as a diving coach locally, was an Olympic hopeful in 2004, but narrowly missed the team. In 2009, the Red Bull Cliff Diving World Series brought the sport into light as it featured the biggest talent and the most-promising newcomers in the field.
In 2012, the 5-4 athlete took second-place finishes in the first two competitions in France and Norway. After which, he found success with his first World Series win four months later in Wales.
He then qualified for the final competition of the year in Oman where took third overall.
The season kicks off with aesthetic leaps from Morro Castle fortress at the entrance of Havana Bay.
From there, Lobue will continue on to competitions in the United States in June at Possum Kingdom Lake in Texas, where two towering cliffs at Hell's Gate mark the entrance to a small cove where the divers will fly.
There, spectators can see the competition amid the hills of one of the most-pristine areas in the United States, — the lake boasts 20,000 acres of clear, blue water — and the first non-urban cliff diving location to be held in North America.
Source: Miami Herald.com
---
Related News
---