Ecuador Reopens Door to Cubans
Submitted by: lena campos

04 / 15 / 2014
---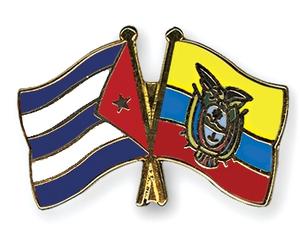 ---
A year after establishing strict regulations applicable to Cubans wishing to travel to Ecuador, Rafael Correa's government has decided to eliminate the letter of invitation hitherto required of visitors from the island.
As of this past Tuesday, Cubans can enter Ecuador without a letter of invitation, a requirement established by the country's authorities on January 21, 2013, days after Cuba's migratory reform came into effect.
The Ecuadorian Ministry of Foreign Affairs explained it had made travel legislation laxer declaring that the two countries had "arrived at a mutually beneficiary understanding" on migratory issues.
"Cuban-born professionals are working in health, education, technical areas and others. Like citizens of other nationalities, they represent a contribution to the country's development," stated a communiqué issued by Ecuador's Ministry of Foreign Relations and Human Mobility.
Cubans will now be permitted to travel to Ecuador and remain in the country for up to three months without any additional requirement.
Ecuador eliminated visa requirements for foreigners in 2008 and, two years later, the country's Cuban community grew from 4,713 to 35,625 people, seeing dozens of cases of falsified documents and involving corrupt government officials.
An Avalanche of Cubans
In 2010, faced with an avalanche of Cubans, Ecuador stepped up its migratory control mechanisms and deprived some 200 Cubans who had obtained citizenship through illegal means or fraudulent marriages with Ecuadorians.
According to data published in 2012, the number of Cubans residing in the country fell to 24,072. A considerable number of them are today in migratory limbo.
Every year, hundreds of Cubans travel from Ecuador to Central America and then to Mexico to cross the border and request political asylum in the United Sates. Others stock up on clothes and electrical appliances bought in Ecuador to market on the island.
At the close of December, Ecuadorian authorities denied a group of 11 Cubans who had arrived from El Salvador and Peru entry into the country. Of this group, five returned to Cuba and six staged a protest at the El Dorado airport in Bogota until obtaining authorization to remain in the country.
Below is the full text of the communiqué issued by Ecuador's Foreign Ministry.
COMMUNIQUÉ FROM THE MINISTRY OF FOREIGN RELATIONS AND HUMAN MOBILITY OF ECUADOR
In January of 2013, with a view to more efficiently control and organize migratory flows, the government of Ecuador established that Cubans wishing to travel to Ecuador required a letter of invitation to enter the country.
This decision was made within the framework of the excellent bilateral relations that exist between the two countries in different areas of mutual cooperation, one of which is the migratory field, where a number of mutually beneficiary understandings have been arrived at.
Professionals of Cuban nationality are working in the fields of health, education, sports, technical areas and others and, like citizens of other nationalities, contribute to the country's development.
These considerations have led the Ministry of Foreign Relations and Human Mobility to decide to eliminate the letter of invitation as an entry requirement for citizens of Cuban nationality. This provision will become effective as of April 1, 2014.
Source: Havana Times.org
---
Related News
---