Cuban Art Exhibition Opens in Shanghai
Submitted by: lena campos

03 / 27 / 2014
---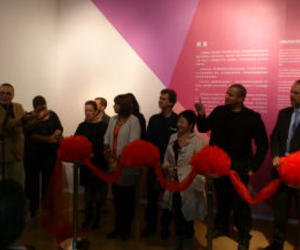 ---
The largest Cuban contemporary art exhibition never seen in Asia was opened today at the Shanghai Urban Planning Exhibition Center, with more than 120 works by 90 artists from the Caribbean country.

"Rolling to Find," to which local audience will have access until April 20, shows several expressions, formats and techniques -from figuration to abstraction- in painting, photos, sculpture, facility, and videoart.

The venue of the exhibition is the Museum of Architecture and Urbanism of this city, located at the central People's Square, visited daily by thousands of people.

The works belong to the National Council of Visual Arts (CNAP) of Cuba, and for the occasion, a delegation led by its president, Ruben del Valle, along a group of renowned artists of that nation, travelled to that Chinese city.

Flora Fong, Alicia Leal, Pedro de Ora and Michel Miraban, curator Isabel Perez, and, CNAP assistant curator for Asia-Pacific scientist Maria Cruz Alonso Antolin, travelled to China to also participate in meetings of support to this important artistic exhibit.

Cuba's general consul in Shanghai Ariel Lorenzo said in the opening that the exhibition is a wide range in which symbols and clear identity marks associated with the historical and cultural evolution of Cuba intermingle.
Source: Plenglish.com
---
Related News
---