Book on Cuban Ballerina Viengsay Valdes Exposes Sacrifices
Submitted by: lena campos

02 / 26 / 2014
---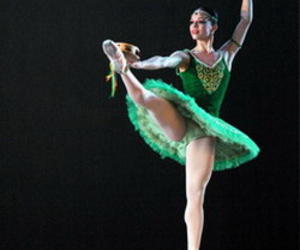 ---
Famous Cuban classic ballerina Viengsay Valdés presented today the electronic version of a book about her life, written by sociologist Carlos Tablada, with a title that characterizes her, De Acero y Nube (Of Steel and Cloud).
According to the first figure of the National Ballet of Cuba (BNC), this book humanizes her because it offers the public an opportunity to meet her beyond the scene. It talks about her efforts to become a world-class artist and contains statements of essential people in her career.
Four of the testimonies stand out for their invaluable character without which she would not be the same woman: her father Roberto Valdés, her grandmother Amparo Rivero, Professor of the National School of Ballet Mirta Hermida, who relied on her from the beginning and Master Fernando Alonso, all deceased.
According to the director of the National Museum of Dance, Pedro Simon, Valdes is an example for future generations fir her determination and discipline which have not been cracked by the success.
He also stressed the scenic domain, the charisma attached to the personality of this dancer, which can not been ignored when in the scenario.
"Viengsay's dance has an angel, has a soul", he stated to then describe the communicative capabilities of this dancer who attracts the attention and when it comes to scene.
Source: Prensa Latina
---
Related News
---