Dodgers sign Cuban shortstop Arruebarrena
Submitted by: lena campos

02 / 22 / 2014
---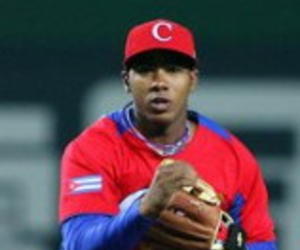 ---
The Los Angeles Dodgers signed Cuban shortstop Erisbel Arruebarrena to a five-year contract. The Dodgers announced the deal. New reports say the contract is worth $25 million, including a $7.5 million signing bonus.
''We think he adds to our major league club at some point this year,'' Dodgers general manager Ned Colletti said. The Dodgers had been negotiating with Arruebarrena for several days. The 23-year-old infielder defected from Cuba last fall, establishing residency in Haiti. He has been working out in the Dominican Republic, according to Colletti. Colletti said Arruebarrena still has to acquire a work visa. ''We'll get him one as soon as we can get him here,'' Colletti said. ''We need to see him on an everyday basis.''
New York Mets ace Matt Harvey threw a baseball Saturday for the first time since having elbow ligament-replacement surgery. With the largest media contingent in camp since Mets pitchers and catchers reported a week ago, and with a group of fans lining the fence of a back field at New York's spring training complex, the right-hander threw 20 times from 60 feet to a bullpen catcher. ''It was awesome,'' Harvey said. ''I know it was 20 throws at 60 feet, but everything felt absolutely amazing. I've got a lot of work to do. It's going to be a tough process with how things felt today. But I've got to stick with it and move forward.'' Harvey threw on the four-month anniversary of his surgery — Oct. 22 — which was the date he originally targeted for throwing.
New York Yankees outfielder Alfonso Soriano missed his third straight spring training workout due to the flu and will be evaluated on Monday. The Yankees, without Soriano on Saturday, were limited because of rain to an early simulated game for fifth starter candidate David Phelps and live batting practice that included top pitching prospect Manny Banuelos, who is coming back from elbow ligament replacement surgery. ''Still not doing well,'' Yankees manager Joe Girardi said of Soriano. ''We thought he was getting better, then last night he got worse again.''
Texas Rangers catcher Geovany Soto had arthroscopic surgery Saturday to remove a small bone from his left foot. Soto had the surgery a day after returning to Texas to be examined by a specialist for what the team had called an Achilles issue. Doctors discovered a bone putting pressure on a flexor tendon. The Rangers said the procedure went well and that the expectation is their starting catcher should be ready for the start of the regular season.
Source: Telegram.com
---
Related News
---