Fidel Castro Welcomes Multiple Foreign Leaders To Cuba
Submitted by: lena campos

01 / 30 / 2014
---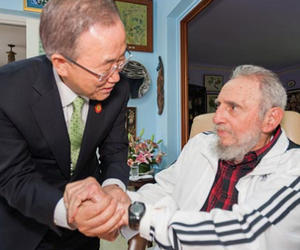 ---
Former Cuban President Fidel Castro has been welcoming several foreign dignitaries into the communist country over the past few days.
In just the past few days Castro has welcomed in the leader of Argentina, and yesterday was photographed by the official Cuban newspaper Granma with the Prime Minister of Saint Lucia and also at a separate meeting with United Nations Secretary General Ban Ki Moon.¨
Granma said Moon was visiting the communist nation as a guest of the Second Summit of the Community of Latin American and Caribbean, CELAC.
Granma said Fidel and Moon "agreed on the imperative of fighting with concrete measures for nuclear disarmament and other dangers to humanity." Moon's office said the two talked about Syria, the Central African Republic, South Sudan, and the Congo along with food security and climate change.
"I emphasized the importance of playing a greater role in enhancing human rights, and providing spaces for people's right to peaceful assembly and freedom of association, and the cases of arbitrary detention occurring in Cuba," Ban said in Havana.
The elder Castro has appeared in several photos in the last few weeks after photos a few months ago showed him looking very frail while he toured a museum. None of the recent photos show Castro standing up to greet the foreign dignitaries.
Castro will turn 88 on August 13, 2014. Outside of staged photo ops and occasional newspaper columns, he's remained out of public view since turning over power to his brother, Raul Castro.
Source: Miami.cbslocal.com
---
Related News
---