Cuba marks May Day with call for economic efficiency
Submitted by: lena campos

01 / 05 / 2014
---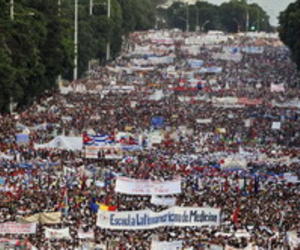 ---
Cuba on Thursday held its yearly May Day celebration amid its regular calls for increased economic efficiency, criticism of the United States and messages of support for the Venezuelan government and president, Nicolas Maduro.
More than 500,000 people, according to the government's estimate, participated in the main rally for International Workers Day in Havana's emblematic Revolution Square as President Raul Castro looked on.
The only speaker was Ulises Guilarte, the new general secretary of Cuba's only legal union, the CTC.
"The economic and social tasks we're facing are each day more complex and difficult. To achieve their fulfillment, the majority support of a workers class like ours, forged in struggle, will be decisive and important," he said.
Boosting "efficiency, productivity, savings, discipline and control" are the only guarantees for "preserving the achievements" of communist Cuba, the labor leader said.
Guilarte did not fail to include in his remarks criticism of the United States as "an imperial power that is ... (changing) the course of history even now through the use of more sophisticated and clandestine methods to divide and subvert."
In his comments, Guilarte was alluding to the ZunZuneo case involving the social network on cell phones organized by the United States in Cuba, which has called the project one more part of Washington's "subversive strategy" against the island.
May Day also served as the occasion to reiterate Cuba's support for the Venezuelan government, its main political and economic ally, and that country's president "in the face of destabilizing actions by the reactionary right."
During the parade on Revolution Square could be seen posters with Maduro's picture and many more with the face of his late predecessor, Hugo Chavez.
Many of the demonstrators also carried posters with the images of Fidel Castro and younger brother Raul.
Source: LatinoFoxnews.com
---
Related News
---