Rev. Jackson in Cuba, hopes to see jailed American
Submitted by: lena campos

09 / 28 / 2013
---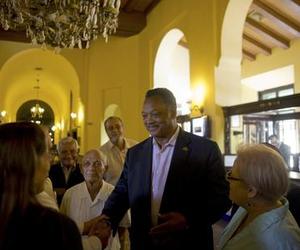 ---
Jackson says he is in town for talks with religious leaders about their concerns for the poor, and peaceful relations between Cuba, the United States and the rest of the Caribbean. Jackson says he also hopes to meet with jailed American government subcontractor Alan Gross.

The Rev. Jesse Jackson traveled to Cuba Friday for talks with the island's religious leaders and said he hopes to visit Alan Gross, a U.S. government subcontractor serving a 15-year sentence in the Caribbean nation.

In brief comments outside a seaside Havana hotel, Jackson told reporters he intended to meet with local clergy about their concerns for the needs of the poor, and to discuss relations between Cuba, the United States and the rest of the Caribbean.

Asked whether he would meet with Gross, Jackson said: "I would like to."

Gross was arrested in December 2009 after authorities caught him importing restricted communications equipment into the country.

He said he was only setting up Internet networks for island Jewish groups, but a court convicted him on a statute governing crimes against the state and sentenced him to 15 years.

The case threw already cool U.S.-Cuba relations into a deep freeze, although there have been signs of some thawing this year.

Jackson has traveled to Yugoslavia, Syria and Iraq in the past to help gain freedom for U.S. citizens jailed there.

In March 2011, shortly before Gross' trial, he appealed to Cuba to release the man on humanitarian grounds and offered to help mediate.

Former President Jimmy Carter came to Havana later that month, but left without Gross.

In September 2011, the former governor of New Mexico and U.S. Ambassador to the United Nations, Bill Richardson, made a high profile visit to try to negotiate Gross' release.

But the trip abruptly fell apart amid mutual recriminations as Richardson wasn't even allowed to see Gross, and referred to him in public comments as a "hostage."

Jackson has visited Cuba on several occasions and met with both former President Fidel Castro and current President Raul Castro. In 1984, he helped negotiate the release of 26 Cuban prisoners. Most of them went into exile.

On Friday, Jackson said he hopes to help continue healing the wounds of a five-decade divide between islanders and exiles.

"It's good to be back to Cuba again," Jackson said. "We've been here over the years. We have developed kinships with many Cuban-Americans trying to build Cuban-Cuban American family reunification."

"We hope for the day we will have the walls down, the bridges built," he said.

Read more here: http://www.miamiherald.com/2013/09/27/3655273/rev-jackson-in-cuba-hopes-...
---
Related News
---