Havana diplomats at UN try to block Yoani Sanchez news conference
Submitted by: lena campos

03 / 23 / 2013
---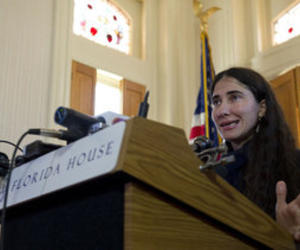 ---
Cuban blogger Yoani. Sanchez, who is currently on a world tour, says she expects, at least initially, to be protected upon her return to Cuba, but admits that she is "afraid every day of my life."

Cuban diplomats at the United Nations complained "heavy-handedly" about a news conference by blogger Yoani Sánchez at a U.N. auditorium hosted by journalists accredited to the international body, knowledgeable reporters said.

Sánchez's appearance before the U.N. Correspondents Association went ahead as scheduled at 3 p.m. Thursday, but its location had to be shifted because of the Cuban complaints, according to association members and news media reports.

The blogger's supporters have expressed suspicions that Cuban diplomats arranged or encouraged most of the hostile groups that tried to disrupt several of Sánchez's recent appearances in Brazil, Mexico and New York City.

The protesters have repeatedly chanted and displayed banners with pro-Castro slogans, repeated Havana allegations that Sánchez is a "mercenary" on the pay of the U.S. government and thrown enlarged copies of U.S. dollars at her.

But the Cuban diplomats' complaints against the UNCA news conference marked the first time that officials of Cuba's communist-run government are confirmed to have tried to disrupt a Sánchez public appearance.

The Cuban complaints noted that UNCA planned to host the news conference in the U.N. auditorium used regularly for news conferences, in violation of regulations that U.N. spaces can only be used by member nations, the journalists said. The event was shifted to a smaller room on the same floor as UNCA's offices.

"They acted very heavy-handedly in this," said one of the reporters, who asked for anonymity to avoid souring relations with Cuba's diplomatic mission to the United Nations.

The Cubans' complaints, in official letters known as démarches, were sent Monday to Secretary General Ban Ki Moon and Peter Launsky-Tieffenthal, under secretary general for Public Information, according to the journalists.

Signed by Cuban Ambassador Rodolfo Reyes, the letters alleged that the news conference would be "an anti-Cuban action" and a "grave attack" on the climate of cooperation in the United Nations, according to the French AFP news agency. The secretary general should "not allow the organization's spaces to be tarnished and their use manipulated by spurious interests," the letter added.

Sánchez denounced the Cuban complaints during her news conference and said that it's time for the United Nations to "come out of its lethargy and recognize that the Cuban government is a dictatorship."

"If this meeting was being held in the bottom of an elevator shaft, we would have more freedom than in Cuba," she said. "I am proud that my first time in this very significant U.N. building is with my journalism colleagues."

Eduardo del Buey, deputy spokesman for the secretary general, said the U.N. secretariat did not interfere with UNCA's plans for the Sánchez news conference and the secretariat "has not organized or participated in this event in any way."

Asked by El Nuevo Herald if Cuban diplomats had complained about the site of the news conference, del Buey said only, "We speak to a variety of people."

UNCA officials could not be reached for comment. Sánchez was introduced at the news conference by former UNCA president Tuyet Nguyen, correspondent for German news agency DPA.

Sánchez, whose blog Generación Y is now translated into nearly 20 languages, had been denied government permission to leave Cuba about 20 times before Havana eased its overall travel restrictions on Jan. 14.

She is now on a whirlwind 80-day tour abroad.

Sánchez will be in Miami in early April for a string of events, including a meeting with students and community leaders sponsored by Miami Dade College. She will receive the MDC Presidential Medal, and the Florida International University Medal of Valor, for her work on behalf of human rights.

Source: Miami Herald.
---
Related News
---