Cuba cooperates with El Salvador in disaster prevention
Submitted by: Luis Manuel Mazorra

04 / 13 / 2012
---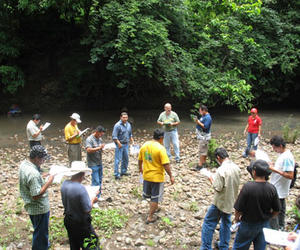 ---
Between Cuba and El Salvador has a collaboration agreement on disaster prevention. As part of this team of Cuban specialists performed a case study in Berlin Township, which is expected to determine the gender social vulnerability to climate change.
Dr. Fernando Guasch Hechavarría, National Center for Earthquake Research (CENAIS) and leading the project for Cuba, reported that it conducted a situational analysis of eight rural communities and the urban center.

Said the expert who chose that demarcation Usulutan by being exposed to various natural hazards and socio-anthropogenic natural be rural and therefore dependent on the land and climate, one of the poorest in the country and treasure historical memory of disasters.

The purpose of the inquiry, said Guasch, was to identify the impact of climate change on agriculture, food, health and quality of life, with particular emphasis on the involvement of women, to project inclusive fitness models and integrators.

CENAIS recognized the specialist interest of civil society and the municipality towards strengthening the protection of the population distributed in 16 counties and the previous work there as part of the Regional Coordination Risk Management.

Among the locations included in the survey cited the San Lorenzo, The Pearls, The talpetates, Joya gallant, Corozal, San Felipe Up, The Plank, Loma Alta and Berlin, where he asked about water quality, state of housing, sources of pollution and human impact, along with other variables.

This work is inserted in Salvadoran communities in the cooperation of Cuban scientists in an international effort by the reduction of disaster risks and threats in several Central American countries, connected geographically and by these natural hazards.
---
Related News
---