Cuban Circus awarded in France
Submitted by: Luis Manuel Mazorra

12 / 02 / 2011
---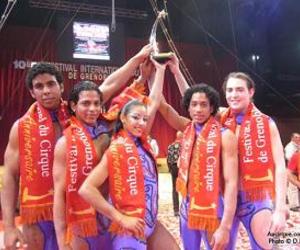 ---
The tenth edition of the International Circus Festival Grenoble, France, ended with good results for the Cuban representatives. The Company Havana proved the talents of its artists won two awards at the event.
According to the official website of this institution for the performing arts in the island, once again the group of Russian Bar showed his talent and professionalism, to win the Special Audience Prize at the prestigious European competition.
Complex triple somersaults with twists and movements choreographed to the beat of Mambo number five on the bar executed four young charismatic Russian who, in the latest edition of International Festival Circuba 2011 were awarded the first place.
The other two French Special Awards Contest clown Bello Nock corresponded to, U.S. and French acrobatic duo Aragorn, while the Indian team the flying trapeze, also of the Havana Company, shared the Bronze Star with Canadian Hugo Claus by the number of German Wheel.
The jury awarded her more laurels, the Gold Star, the Canadian diver Circus Concept, while the Silver Star was in the hands of Romanian acrobats Troupe of China's Fantasy and Fan Zhang for their exercise in the Rope loose.
By participating in the French event, held last weekend at the Palais des Sports in Grenoble, began the journey of the Cuban circus performers prestigious festivals to be held until the end of February 2012.
---
Related News
---